New Year honours: Bussell, a Bee Gee and a Beatle among gong gang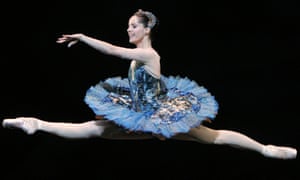 He may have received the knighthood two decades after his former bandmate Paul McCartney, but Ringo Starr did not seem to mind.
Starr, who was among those recognised in the New Years honours list, was exuberant in reaction to the news of his title, which he described as "an honour and a pleasure".
The knighthood comes 52 years after he was given an MBE for his global success as the drummer for the Beatles. Starr has often joked that McCartney, who was knighted in 1997, considers himself to be the only living Beatle, but McCartney has long spoken of how he feels Starr is deserving of the honour.
"It's great! It's an honour and a pleasure to be considered and acknowledged for my music and my charity work, both of which I love," Starr said in a brief statement, before signing off with "peace and love".
Others in the arts world honoured included Darcey Bussell, the former principal dancer at the Royal Ballet and now a judge on Strictly Come Dancing. Bussell said she was "truly humbled" to become a dame for services to dance.
She is being honoured more than 10 years after she was given a CBE in the Queen's birthday honours and more than 20 years after her first accolade, an OBE in 1995.
The last survivor of the Bee Gees, Barry Gibb, was also given a knighthood, and Wiley – dubbed the "godfather of grime"– was honoured with an MBE.
Gibb, 71, said he was "deeply honoured, humbled and very proud" to be recognised, adding: "This is a moment in life to be treasured and never forgotten. I want to acknowledge how responsible my brothers are for this honour. It is as much theirs as it is mine."
Wiley, 38, who was among the early pioneers of grime, said: "It feels like the school grade I wanted and didn't get but now I'm finally there."
Also facing up to the fact he was now "part of the establishment" was Soft Cell singer Marc Almond, 60, who was given an OBE for services to arts and culture.
The Tainted Love singer said he was "totally excited" to be receiving the honour, adding: "I can't really be a rebel any more. I think it's time to leave it to younger people."
The former child laureate Michael Morpurgo was honoured with a knighthood, an accolade he immediately passed on to his most popular character, Joey from his 1982 children's book War Horse, to whom he said the honour really belonged.
Morpurgo said: "Probably if I'm honest with myself, it is about one book. And it's about one story and one play, the great good fortune of my writing life in terms of, I suppose, circumstance and bringing the kind of success you can't dream of in terms of rewards and awards – it's the play of War Horse.
"There was never a knight that has owed so much to his horse as this one – and in fact, we will give the knighthood to Joey and call him Sir Joey."
Broadcaster and writer Melvyn Bragg and author and historian Lady Antonia Fraser were both given the high distinction of Companion of Honour. HEP
Source: New Year honours: Bussell, a Bee Gee and a Beatle among gong gang | UK news | The Guardian