'Master teachers' set to be new classroom elite
Tristram Hunt says scheme would boost career structure and improve teacher retention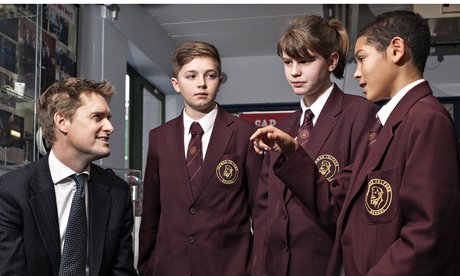 A new elite grade of "master teachers" would be established in state schools under a Labour government as part of a drive to raise standards and ensure that top performers remain in the classroom.
Under the plans the new top tier of teachers could be awarded higher salaries by headteachers and would be regarded as the "gold standard" in the profession.
The policy, announced on Sunday by shadow education secretary Tristram Hunt, highlights the gulf between Labour's emphasis on the need for qualifications and experience, and education secretary Michael Gove's willingness to allow unqualified teachers to operate in free schools and academies.
Labour has already announced that all teachers in state schools would have to be qualified if Labour were to win the next election. Hunt also announces on Sunday that they would have to choose one of three new career routes, specialising either in classroom teaching methods, curriculum development in chosen subjects, or pursuit of eventual leadership roles.
The idea of master teachers as models of best practice – a system operating in Singapore – was recommended to Gove in a review on standards for the coalition government in 2011, but not taken forward. The title would be awarded to those who met standards to be set by an independent body. Pay levels would be at the discretion of headteachers. Hunt said that in Singapore teachers could see a career path at all stages and had incentives to stay in the profession – and in the classroom – rather than viewing a move into a non-teaching leadership role as the pinnacle. More emphasis should be placed on the best teaching. "Day in, day out, it is the teachers in our classrooms who hold the greatest influence over the learning and development of our children," Hunt said. "If we want to compete with the rising powers of the east, we should learn from their success. That's what Labour is doing."

Labour has already set out plans, resisted by some unions, under which teachers would have to be relicensed every few years to continue working in state schools. Unqualified teachers who have been able to work in state schools under Gove's reforms would also have to leave the profession unless they gained a formal qualification within two years.
Dame Sally Coates, the outgoing head of Burlington Danes Academy in west London, who chaired the review of teachers' standards in 2011 for Gove, welcomed Labour's move. "We need to keep the exceptional teachers in the classroom. It will give all teachers something to aspire to," she said.
Mary Bousted, general secretary of the Association of Teachers and Lecturers, which represents 160,000 teachers, supply teachers, heads, lecturers, managers and support staff in maintained and independent schools and colleges, also backed the idea, saying it could help stem an alarming exodus of teachers.
"This government has tended to overestimate the role of leadership in schools and to underestimate the role of teachers in the classroom. We are facing the prospect of a recruitment crisis in schools and we need to do all we can to reverse that while also keeping the best teachers in the classroom."
But Bousted said that there should be nationally determined pay grades for the new master teachers as well as better career development for all teachers aspiring to reach the new top tier.
Figures from the Department for Education released in April showed a sharp jump in the number of unqualified teachers in state schools from 14,800 in 2012 to 17,100 in November last year.
The number of frontline staff without qualified teaching status employed by academies and free schools rose during the same period by 2,600 to nearly 8,000 – meaning nearly 6% of the 141,000 full-time teaching staff at both types of school lack teaching accreditation. In free schools, teachers without qualified teaching status represent 13% of 1,500 full-time teachers. Across all state schools, including free schools and academies, just 3.8% are unqualified.
Deputy prime minister Nick Clegg has joined those demanding that all teachers in state schools should be qualified. The head of Ofsted, Sir Michael Wilshaw, also made clear to a Commons committee in 2012 that he believed teachers should be qualified: "I would expect all the teachers in my school to have qualified teacher status," he said.
A Department for Education spokesperson said changes had been introduced last year to allow heads to pay the best teachers more. "We have already changed the rules so that the brightest and best teachers can be rewarded with higher salaries. Our new rules, introduced last September, mean heads can now pay great teachers more. Teachers can finally be paid according to their talents and performance, rather than time served."
On allowing unqualified teachers into academies and free schools, the DfE said: "We trust heads to decide who they hire. It is entirely right that state schools should enjoy the same advantage that private schools have to bring great linguists, computer scientists, engineers and other specialists into the classroom."
via 'Master teachers' set to be new classroom elite | Education | The Observer.